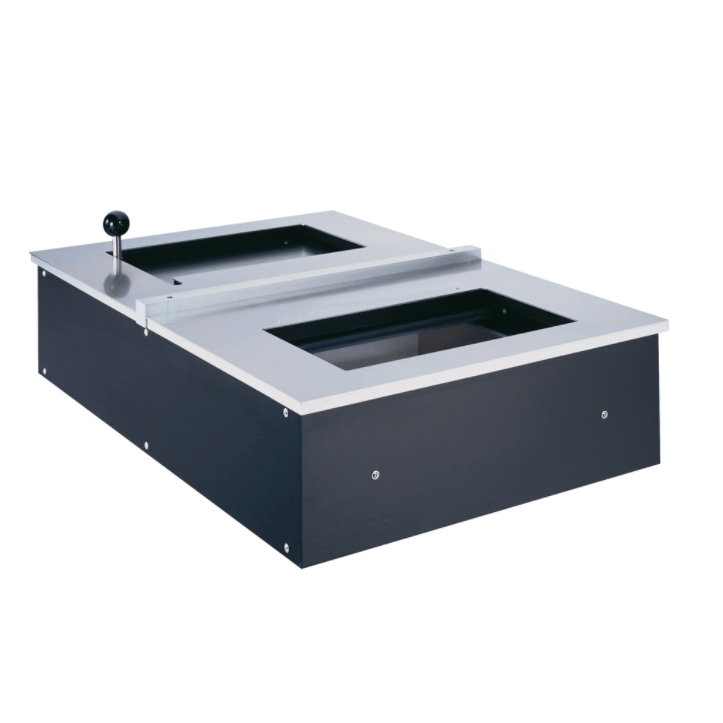 Model 22 FB7
Model 22 is a drawer and bin that moves in opposite directions and is intended for high security environments. Model 22 FB7 is ready for direct installation. This drawer is ideal as a unit in high security indoor areas - such as banks, penal institutions, embassies and other high security facilities. The drawer is intended for delivering and receiving documents and rolls of money and similar objects.
Product Information
Security and Features
Cover flap that moves in the opposite direction, and deep drawer for passing large objects up to 341 x 359mm in size and up to 100mm high, as well as files with a spine of 80mm.
Automatically locks in both end positions. Lock can only be released by the operator behind the counter using the lever.
It is not possible to reach through the hole when the device is sliding. It is also not possible to manipulate the mechanism.
After releasing the control lever, the drawer moves automatically (spring-operated) into a locked end position.
Provides firearms protection, can withstand heavy fire from firearms. For example from a G3 rifle. The tray has received M5/FB-7 certification from the Firearms Licensing Authority.
The integrated steel part also provides firearms protection to the area where the unit connects to the glass.
Model 22 complies with German UVV regulations.
Materials and Use
The cover is made of a 2mm thick stainless steel cover plate.
Slide, drawer and deep drawer are made of galvanized stainless steel finished with a special gun-resistant substance and a black-brown powder coating. The deep drawer is reinforced by an additional steel base.
All metal parts are manufactured using state-of-the-art precision laser cutting technology for the ultimate in quality.
Model 22 is suitable for use in highly secured environments.
No maintenance required. No need for cleaning or lubrication.
Installation and dimensions
The unit is ready to be mounted in prepared counters / counters. The drawer is mounted from the outside by inserting into the recess from above. Because this unit is made with special materials, it is extra heavy and therefore also needs a reinforced environment. Keep in mind access requirements and the potential need to later remove the unit in the event of repairs.
Miscellaneous
Model 22 is also available as Model 22 R, which is mounted on the counter. In this model, the cover flap is 10 mm above the slide.
Other sizes available on request.
Download the PDF with construction drawings