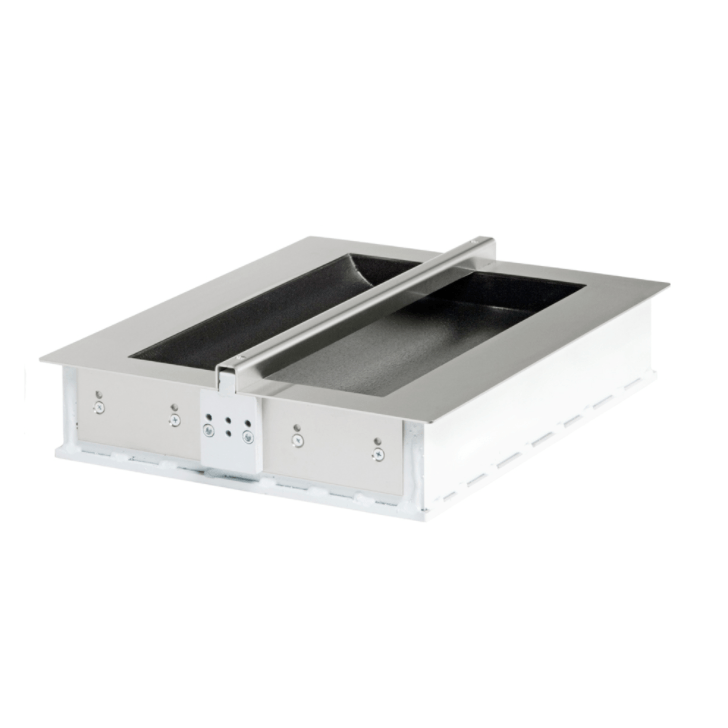 Model 12 FB7
Model 12 is a flat 'receipt and payment drawer' ready for installation. Ideal for indoor use, this drawer is intended for delivering and receiving documents and small amounts of money. The unit offers level FB7 firearms protection and is available on request in firearms protection class FB6 or FB4.
Product Information
Security and Features
Ready-to-use tray for handing over flat items such as files up to a maximum size of DIN A4, receipts, documents, passports and rolls of coins up to 30mm high.
Easy to use edges for taking out coins.
Provides firearms protection. The tray can withstand heavy firearms. The device has received F6/FB7 certification from the Firearms Licensing Authority.
Model 12 complies with German UVV regulations.
Materials and Use
The flat tray is made of a special substance with a black-brown color baked on enamel finish. The metal plates are made of or reinforced with special steel.
Exterior of 1 mm brushed stainless steel.
All metal parts are manufactured according to the latest technique, precise laser cutting technology for ultimate quality.
Model 12 is suitable for indoor use.
No maintenance required. No need for cleaning or lubrication.
Installation and dimensions
The drawer is prepared for mounting in an existing recess, into which it is inserted from above. We recommend using a supporting substructure for the installation of the drawer (FB6 or FB7).
Miscellaneous
Other colors available on request.
Also available in firearms protection class FB6 for high security areas (with certificate).
Download the PDF with construction drawings