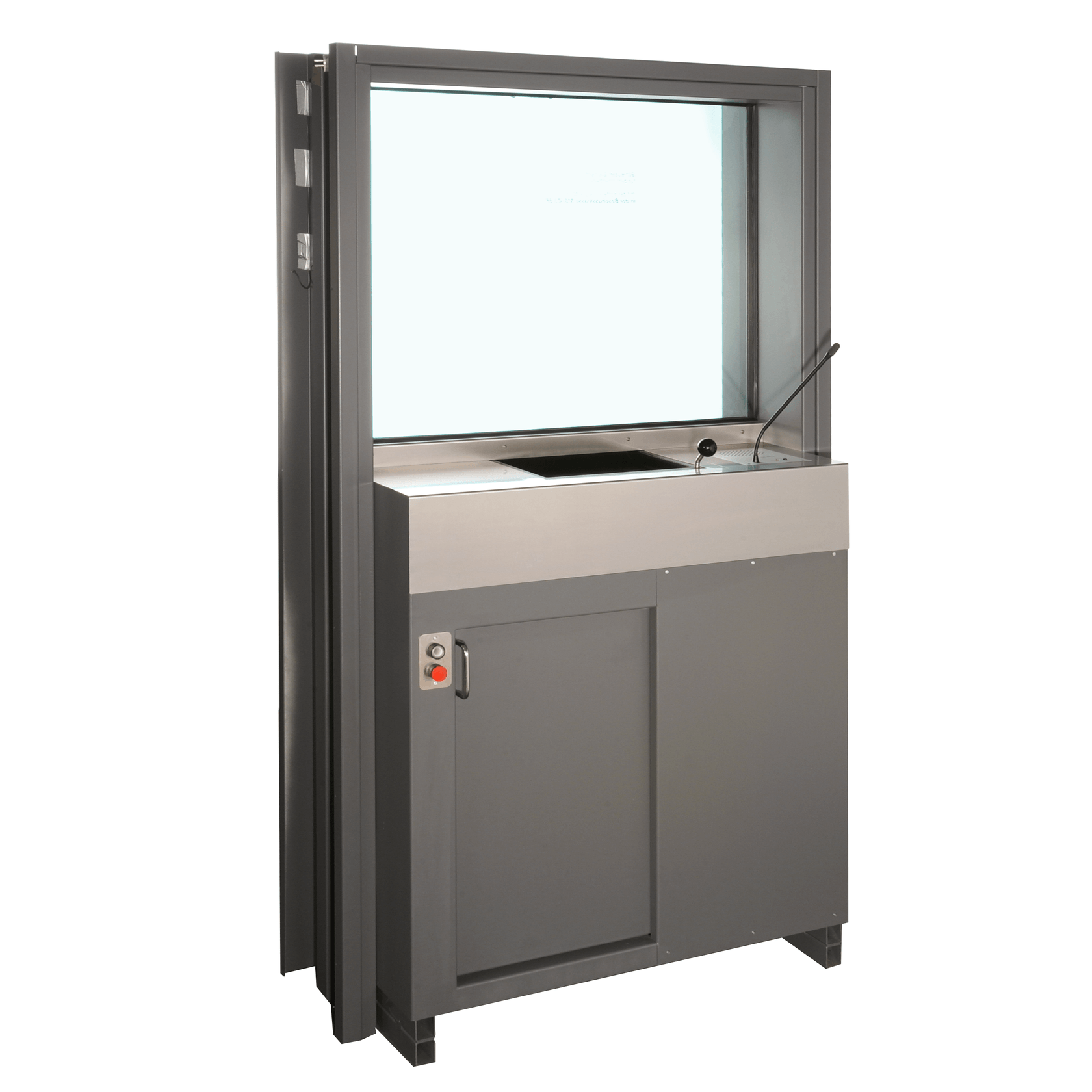 Model 7120
Model 7120 is a complete unit with Model 20 lead-through and Model 100 cabinet door. The entire unit is ready for installation and is suitable for indoor use. This unit is particularly suitable for handing over larger items such as briefcases or boxes for valuables. Via the drawer, this unit can also be used as a reception or counter, for handing over cards, documents and receipts.
Product Information
Security and Features
Complete unit with flat tray and tray (Model 20) moving in opposite directions. For handing flat objects up to 30 mm high, such as cards, receipts and ID cards, as well as larger objects up to 100 mm high. With integrated public intercom for automatic two-way conversation.
Closet hatch Model 100 with sliding doors. Manual or electromechanical hatch operation and safety activation with additional mechanical door lock, doors can only be opened alternately. Mechanism cannot be manipulated.
Provides firearms protection, withstands heavy handguns. Model 20 and Model 100 cabinet door have received FB4 certification from the Firearms Licensing Authority.
Model 7120 complies with German UVV regulations.
Materials and Use
Safety glass that adheres to BR4 NS.
Frame and lead-through made of 3 mm thick sheet steel with a black-brown powder coating.
Counter element in brushed stainless steel.
Closet hatch made of 3 mm steel, clad in stainless steel.
All metal parts are manufactured using state-of-the-art precision laser cutting technology for the ultimate in quality.
Model 7120 is suitable for indoor use.
No maintenance required. No need for cleaning or lubrication.
Installation and dimensions
The unit is supplied complete with power cables and is ready for mounting in prepared walls. It is inserted into the recess from the outside to be exactly flush with the wall. This is done by removing the inner frame. The unit can then be screwed into place from the inside. Keep in mind access requirements and the potential need to later remove the unit in the event of repairs. There must be a 230 V socket at the counter inside.
Miscellaneous
Can be combined with all other Wurster passages, such as Model 20 spät.
Also available as model 7520 or 7620 with cabinet door Model 105 or money car door Model 106.
Electric door operator available.
Other firearm categories available upon request.
Frame coatings available on request in alternative RAL colours.
Download the PDF with construction drawings