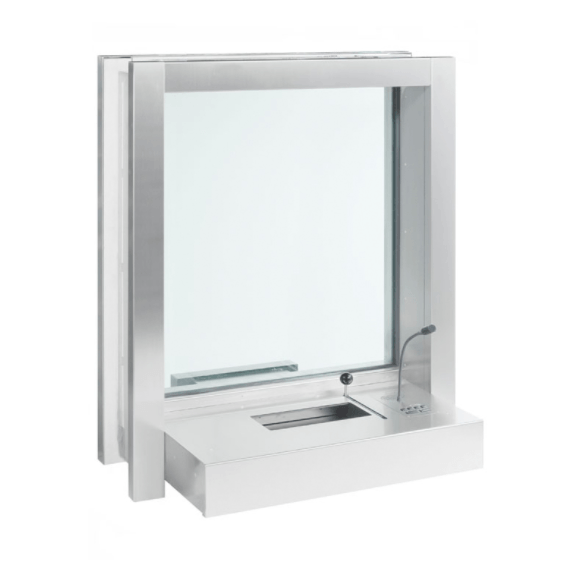 Model 7063 FB6
Model 7063 is immediately ready for mounting as a complete window unit including hatch, model 63.01 FB6. The unit is particularly suitable for indoor and outdoor use. This model can be used in places such as the reception or counter in courthouses, embassies and correctional facilities.
Product Information
Security and Features
Window unit with sliding feed-through for use as a perfect closing unit with front panel and integrated intercom.
Model 7063, front unit with pass-through, for indoor and outdoor use. With hatch for everyday objects and documents DIN A4 format or up to max. 40 mm high.
Drawer equipped with a mechanical alternating automatic lock – and an acrylic glass lid. The drawer can only be moved when the lid is closed.
Automatic lock at full extension in both directions. Lock can only be released by the operator behind the counter using the lever.
It is not possible to reach through the hole when the drawer is extended or to manipulate the mechanism.
Materials and Use
Safety glass that complies with BR6 NS.
The unit made of safety steel and steel plate.
Armament and additional plates are made of armor steel.
Cover panel, compartment bottom, lid and inner housing made of brushed stainless steel.
All metal parts are manufactured using state-of-the-art precision laser cutting technology for the ultimate in quality.
Model 7063 is suitable for indoor use and covered outdoor areas
No maintenance required. No need for cleaning or lubrication.
Installation and dimensions
The window unit is supplied complete with power cables and is ready for exact mounting in prepared wall sections. It is inserted into the recess from the outside to fit flush with the wall. This is done by removing the inner frame before screwing the unit into place from the inside to avoid tampering. Access requirements and the potential need to later remove the unit in the unlikely event of repairs should be considered. There must be a 230 V socket at the counter inside.
Miscellaneous
Optional: fire retardant up to F90.
Also available with shutters and lighting.
Special sizes available on request (excluding drawer).
Frame coatings available on request in alternative RAL colours.
Download the PDF with construction drawings