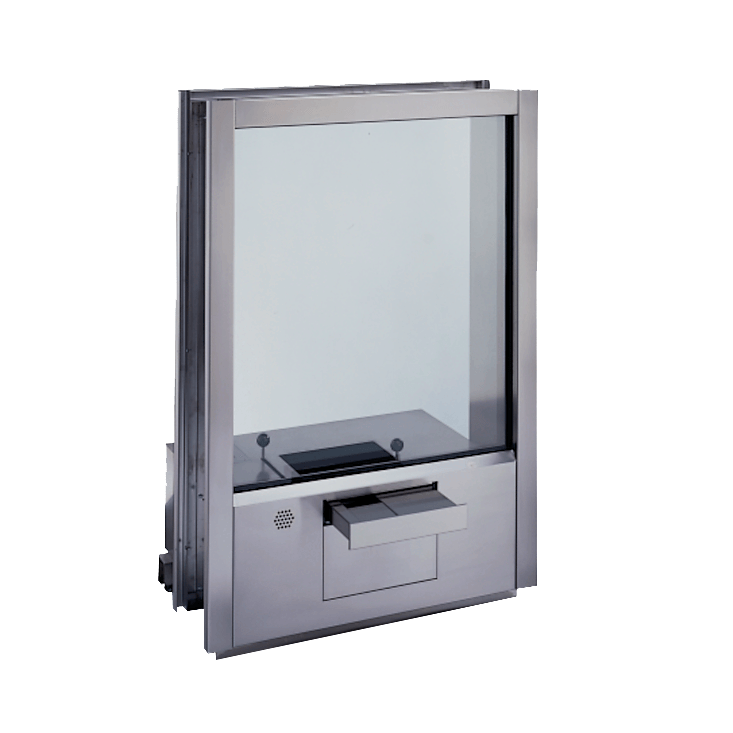 Model 7052
Model 7052 is a complete window and transfer unit with a Model 52.01 passage. This model is ideal for use in covered outdoor areas. The unit is ideal for use as a sales or reception counter for places such as reception services or gas stations.
Product Information
Security and Features
Window unit with sliding drawer Model 52.01, fits in line with the exterior facade and features a small and large drawer and an integrated intercom for automatic two-way conversation.
Small drawer for handing and receiving small items and money.
Large drawer ideal for transferring items such as drinks, food, etc.
Automatic lock on closing.
Sealed against dust and drafts.
Provides firearms protection, withstands heavy hand fire (FB4)
Model 7052 complies with German UVV regulations.
Materials and Use
Safety glass that adheres to or BR4N S.
Housing made of brushed stainless steel of 2 mm.
1 mm brushed stainless steel cover panel, 2 mm brushed stainless steel hood.
All metal parts are manufactured using state of the art precision laser cutting technology for ultimate quality.
Model 7052 is best suited for indoor outdoor use.
No maintenance required. No need for cleaning or lubrication.
Installation and dimensions
The unit is supplied complete with power cables and is ready for mounting in prepared walls. It is inserted into the recess from the outside to be exactly flush with the wall. This is done by removing the inner frame. After this, the unit can be screwed into place from the inside. Keep in mind access requirements and the potential need to later remove the unit in the event of repairs. There must be a 230 V socket at the counter inside.
Miscellaneous
Available in higher firearms protection classes, for example: FB6
Available with fire protection up to F90.
Also available with shutters and lighting.
Special sizes available on request.
Frame coatings available on request in alternative RAL colours.
Download the PDF with construction drawings