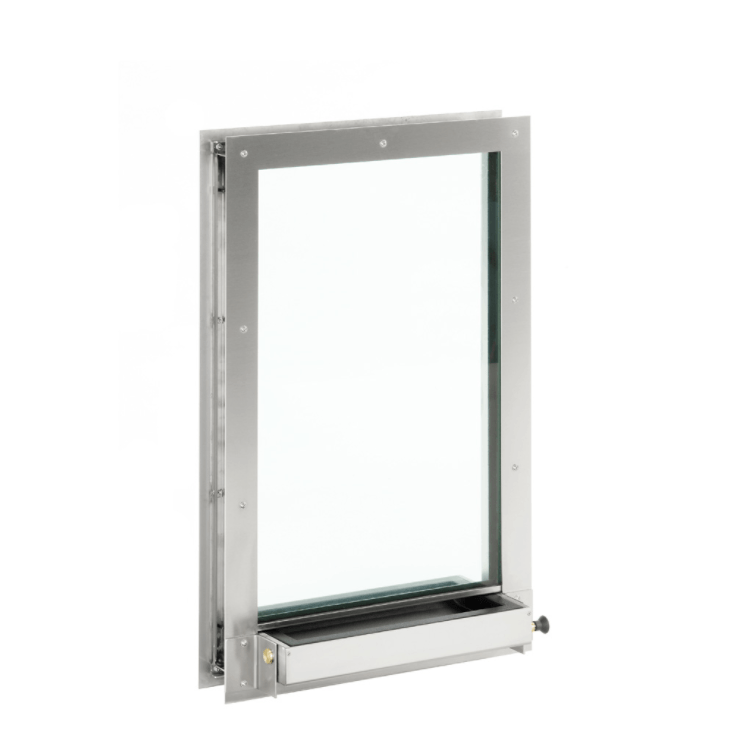 Model 7005
The emergency checkout counter is designed for installation in prepared doors with a thickness of 53 mm, 60 mm or 70 mm. This unit helps to continue the checkout during 'emergencies' such as power outages or malfunctioning ATMs.
Product Information
Security and Features
Element for emergency cash registers for installation in doors with a thickness of 53 mm, 60 mm or 70 mm.
Folding flat tray for passing on flat objects, such as identification documents, receipts and cards (up to max. 30mm high).
The element installs quickly and easily.
Uses studs to lock when pushed in or folded. Only the operator behind the counter can make this adjustment by pulling the mounting bolt.
The pass-through is ready for use in an instant.
The tray can withstand heavy handguns. The tray has received FB4 certification from the Firearms Licensing Authority.
Materials and Use
The safety glass complies with BR4 NS
The frame is made of 2mm and 3mm brushed stainless steel.
The 'tray' is made of V2 and black lacquered synthetic material.
All metal parts are manufactured using state of the art precision laser cutting technology for ultimate quality.
Model 7005 is suitable for indoor use as an emergency cash register.
No maintenance required. No need for cleaning or lubrication.
No power required for use.
Installation and dimensions
The device is ready for exact mounting in prepared door leaves. It is placed in the opening already made by the fitter from the outside. This is done by removing the inner housing before screwing the unit into place from the inside. This is to prevent sabotage.
Miscellaneous
Special sizes available on request.
Interior coatings available in alternative RAL colors on request.
Download the PDF with construction drawings