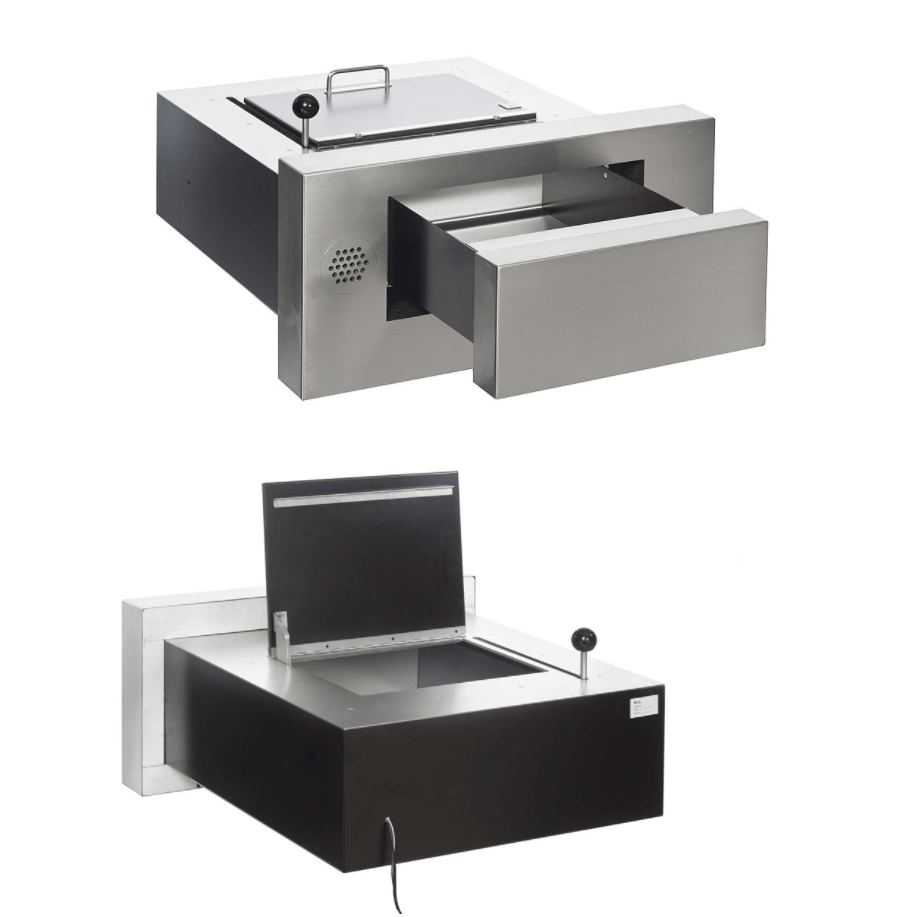 Model 53.01 H FB4 F90
Model 53.01 H FB4 F90 is a ready-to-install pass-through tray that includes an integrated two-way intercom system. The transit is suitable for walls up to 140mm thick. The device is widely used for physical access monitoring in indoor and outdoor covered areas, such as parking garages, government buildings, and corporate gates. Objects up to a height of 120 mm can be handed over in the drawer, such as files with a back strap of 80 mm. Fire protection up to EI / F90 and bulletproof protection FB4 is standard.
Product Information
Security and Features
Transit tray for flush mounting with the exterior wall, front panel and integrated intercom for automatic two-way conversation.
The drawer and Acrylic glass stop each other in direct opening. The drawer can only be opened when the Acrylic cover is closed.
Automatically locks in both end positions. Lock can only be released by the operator behind the counter using the lever.
It is not possible to reach through the hole when the device is sliding. It is also not possible to manipulate the mechanism.
For handing over cards, files, etc. up to DIN A4 format.
Dust and draft sealed.
Provides firearms protection. The unit can withstand heavy small arms, for example a Magnum .44. Has received M3/FB4 certification from the Firearms Licensing Authority.
Model 53.01 complies with German UVV regulations.
Materials and Use
Transit is made of steel and security steel.
Front plate, tray and cover are made of brushed stainless steel.
All metal parts are manufactured using state-of-the-art precision laser cutting technology for the ultimate in quality.
Model 53.01 H FB4 F90 is suitable for indoor and outdoor use in covered areas
No maintenance required. No need for cleaning or lubrication.
Installation and dimensions
The unit is ready to be mounted in prepared walls / recesses. The drawer is mounted from the outside by inserting into the recess from above. It is then screwed firmly on the inside. Keep in mind access requirements and the potential need to later remove the unit in the event of repairs. The unit is very compact and suitable for use in areas with limited space.
Miscellaneous
Model 53H is also available as Model 53H FB4 F90 without two-way intercom.
Available with rain cover
Special sizes available on request.
Coatings available in RAL colors on request.
Download the PDF with construction drawings