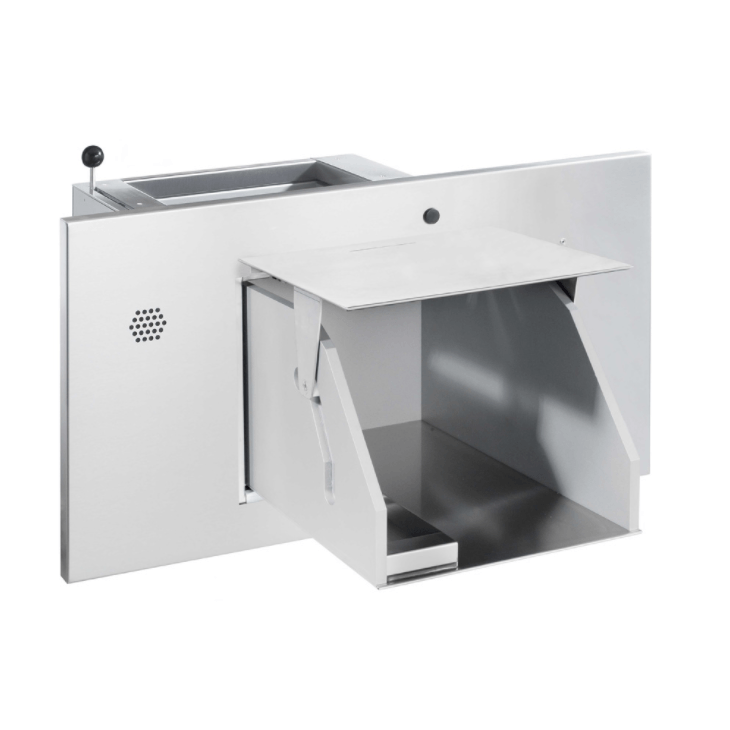 Model 52A.01
Model 52A.01 is a 'sliding' transit, ready for installation, with an integrated two-way intercom system. It is suitable for use in covered outdoor areas such as pharmacies and fast food restaurants as a drive-through counter.
Product Information
Security and Features
Sliding grommet for use as a drive-through grommet. The transit fits flush with the exterior facade and features a large drawer, a front panel and integrated 'Public 3' intercom for an automatic two-way conversation.
The drawer includes an integrated section for easy removal of coins.
Goods and parcels up to 350 x 300 x 390 mm can be easily transferred.
The lid automatically raises when pass-through is opened and automatically locks in the return position. The lid lock can only be released by the operator behind the counter using the lever.
Dust and draft sealed thanks to acrylic lid on operator side (inside).
Materials and Use
Drawer made of sheet steel and stainless steel.
Front panel made of 1 mm thick stainless steel, drawer box made of 3 mm thick stainless steel.
All metal parts are manufactured using state-of-the-art precision laser cutting technology for the ultimate in quality.
Model 52A.01 is best suited for indoor outdoor use.
No maintenance required. No need for cleaning or lubrication.
Installation and dimensions
The unit is ready to be mounted in prepared walls / recesses. The drawer is mounted from the outside by inserting into the recess from above. It is then screwed firmly on the inside. Keep in mind access requirements and the potential need to later remove the unit in the event of repairs.
Miscellaneous
Unit also available with PIN panel, bank card reader or both.
Also available with rain cover.
Available in other sizes on request.
Coatings available in RAL colors on request.
Also available as model 7052 A, as a window unit with glass panel.
Download the PDF with construction drawings